Tender Crisped Garlic Parmesan Green Beans
Tender Crisped Garlic Parmesan Green Beans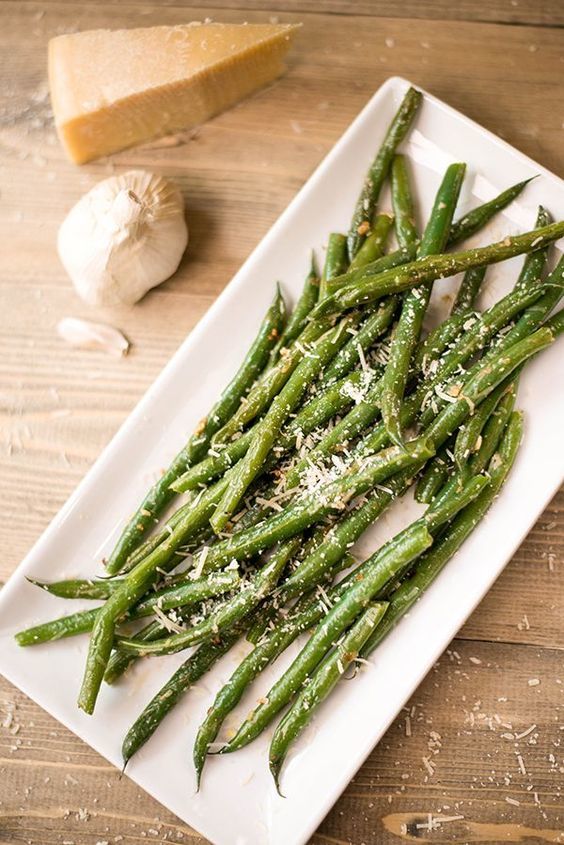 Ingredients
1 lb fresh green beans stems removed
2 tbsp unsalted butter
2 cloves garlic minced
1/2 tsp kosher salt
1/8 tsp ground black pepper
1 tbsp freshly grated parmesan cheese
Instructions
Using a large pot and a steamer basket or colander that will fit inside
Add approximately 1-2 inches of water to the pot and heat over high heat.
Once the water has reached a boil, add the green beans to the steamer basket or colander, cover.
Allow to steam for 6-8 minutes, or until the green beans are starting to become tender but have not finished cooking.
Remove from heat and set aside.
Melt butter over medium heat in a large skillet.
Add garlic and cook 1-2 minutes.
Transfer steamed green beans to the melted butter and garlic.
Toss to coat green beans evenly and continue to saute for approximately 5 minutes over medium heat.
Season with salt and pepper and add more if necessary, to taste.
Remove from heat and sprinkle grated parmesan.
Toss once again until parmesan is melted.
Enjoy!
Deidre Hartfield 
Dee Hartfield 
SaveSave
SaveSaveSaveSaveSaveSaveSaveSave
SaveSave
SaveSave
SaveSave
SaveSave
SaveSave