Strawberry Vanilla Almond Cream Layer Cake
Strawberry Vanilla Almond Cream Layer Cake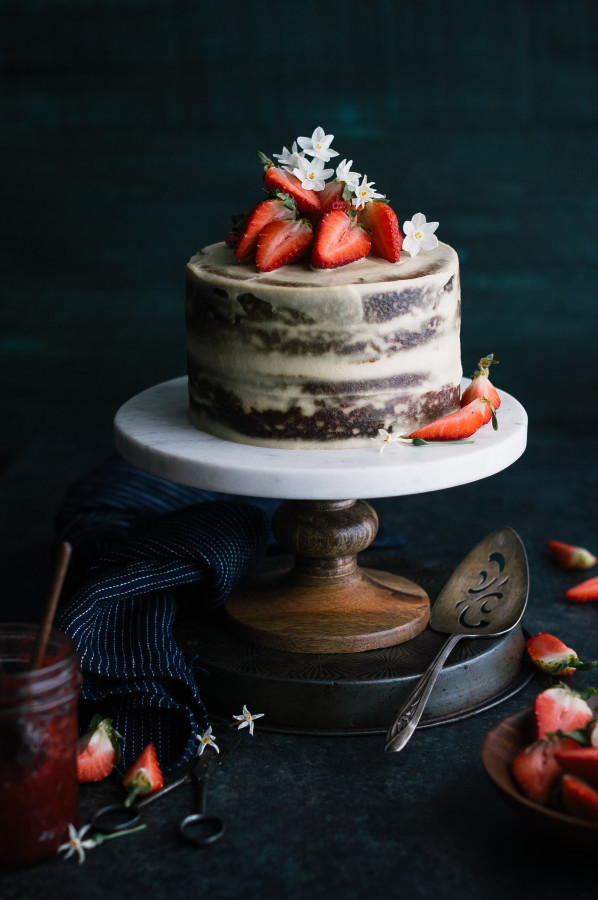 Ingredients
1/2 Lemon, Juice of
1 Strawberries, Fresh
1 cup Almond milk
5 Eggs
Canned Goods
1/4 cup Almond or coconut milk
Condiments
1 cup Honey
1 jar Strawberry preserves
Baking & Spices
1 tsp Almond extract
2 3/4 cups Almond flour
1 tsp Baking powder
4 tbsp Coconut flour
1/4 tsp Cream of tartar
1/2 tsp Sea salt
1 pinch Sea salt
2 tbsp Tapioca starch
2 1/2 tsp Vanilla
Oils & Vinegars
3/4 cup Coconut oil
Nuts & Seeds
1 1/2 cups Cashews
Dairy
1 cup Coconut yogurt
Instructions
Preheat the oven to 350 degrees.
Grease two 6″ cake pans and line the bottoms with parchment paper circles.
In a mixing bowl, whisk together the almond flour, tapioca starch, coconut flour, salt,
cream of tartar, and baking powder. Set aside.
In another mixing bowl, beat together the eggs, honey, vanilla, almond extract, almond milk, coconut oil, and yogurt together until smooth and well combined.
Add the dry ingredients to the bowl of wet ingredients and whisk together until just
smooth and lump-free.
Divide the batter between the two prepared cake pans and bake in the preheated oven 40-45 minutes.
Test for doneness by inserting a toothpick into the center of the cakes.
Remove from oven when toothpick comes out clean.
Let cool in pans for 10 minutes.
Remove layers from pans and refrigerate until fully cooled.
FOR THE FROSTING:
Drain the cashews and placed them in a high speed blender along with the almond milk, vanilla, salt, honey, and lemon juice.
Process for several minutes, scraping down the sides as needed, until very smooth.
Scoop into an airtight container and refrigerate.
TO ASSEMBLE:
When the cake layers have cooled, cut each layer in half horizontally so that you have four layers
of cake.
Place one layer of cake on a cake stand and spread strawberry jam across it in an even layer.
Set another cake layer on top of the jam and top that layer with jam as.
Add the bloomed gelatin to the milk and whisk in until fully dissolved.
Remove from heat and whisk in to the yogurt mixture.
Divide the mixture between 3-4 small containers or ramekins.
Chill for 4 hours.
Enjoy !!
SaveSave