Strawberry Fields Poppy Seed Salad
Strawberry Fields Poppy Seed Salad
Spring into Summer with a light and fresh Strawberry Fields Poppy Seed Salad. Sweet and Savory mixed together bring out the wonderful flavors in this delectable salad. Topped off with a sweet poppy seed dressing. Definitely a year round classic for any table.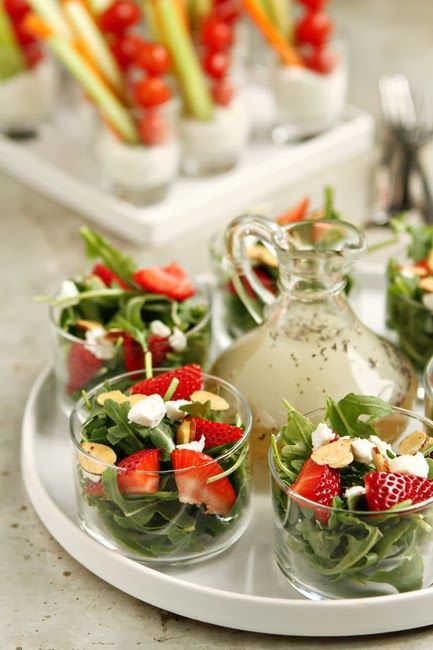 Ingredients:
1 tablespoon poppy seeds
2 teaspoons finely grated Vidalia onion
1/4 cup white wine vinegar
1/4 cup apple cider vinegar
1/2 cup vegetable oil
5 ounces (about 4 cups) baby arugula
1 cup sliced strawberries
1/3 cup crumbled goat cheese or blue cheese
1/4 cup sliced almonds
3/4 cup graham cracker crumbs
1 tablespoon granulated sugar
2 tablespoons unsalted butter, melted
1 (8 ounce) package cream cheese, softened
3 tablespoons granulated sugar (see note below)
12 ounces canned pineapple, pureed
1/2 teaspoon pure vanilla extract
1 (8 ounce) tub frozen whipped topping, thawed
whipped topping, optional
fresh pineapple, optional
Instructions
Toss all ingredients together with your desired amount of dressing.
Serve immediately.
Enjoy!!