Spinach Pesto Pasta with Grilled Shrimp
Spinach Pesto Pasta with Grilled Shrimp
A Delicious Pasta Dish featuring Shrimp ​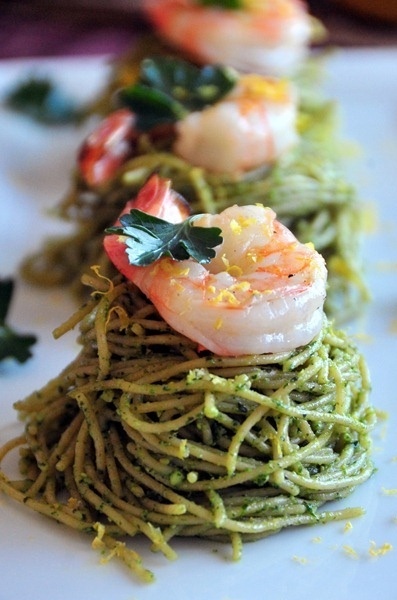 Ingredients
1 1/2 cups baby spinach leaves, lightly packed
1/2 cup fresh basil leaves, lightly packed
1 clove of garlic
1/4 cup pine nuts, toasted
2 tablespoons fresh lemon juice
2 teaspoons lemon zests
1/2 teaspoon kosher salt
1/4 teaspoon freshly ground black pepper
1/4 cup extra-virgin olive oil
1/3 cup freshly grated Parmesan cheese
1 (13.25 Oz) package of Barilla Whole Grain Thin Spaghetti
1 pound of shrimps (21-25 counts), shelled and deveined with tails on
1 tablespoon fresh parsley leaves, for garnish
Instructions
To prepare the Spinach Pesto:
Combine the spinach, basil, garlic, pine nuts, lemon juice, lemon zest, salt
and pepper in a processor.
Lightly pulse. With the machine running, gradually add the olive oil,
Blend until the mixture is creamy.
Stir in the Parmesan cheese, set aside.
To prepare the Spinach Pesto Spaghetti with Grilled Shrimps:
Heat the grill or a grill pan on high heat. Lightly oil the grill pan.
Toss the shrimp with 1 tablespoon of the extra-virgin olive oil in a bowl to coat.
Sprinkle with salt and toss again.
Add the shrimp to the grill in a single layer.
Grill each side for 2 to 3 minutes, or until shrimps are cooked through.
Removed from heat once they are done.
Meanwhile, cook the pasta in a large pot of salted boiling water until el dente
stirring occasionally, about 6 minutes.
Drain, reserving 1/2 cup of the cooking liquid.
Toss the pasta with the pesto in a large bowl to coat, adding the reserved
cooking liquid 1 tablespoon at a time to moisten.
Top with the grilled shrimp.
Garnish with the lemon zest and parsley.
Enjoy!!
SaveSave
SaveSave
SaveSave