Lavender Blackberry Ice Cream
Lavender Blackberry Ice Cream
Fabulous Blend of Lavender and Blackberry
Fabulous blend of Lavender and Blackberry which pairs tart blackberries with fragrant lavender in a gorgeous violet color.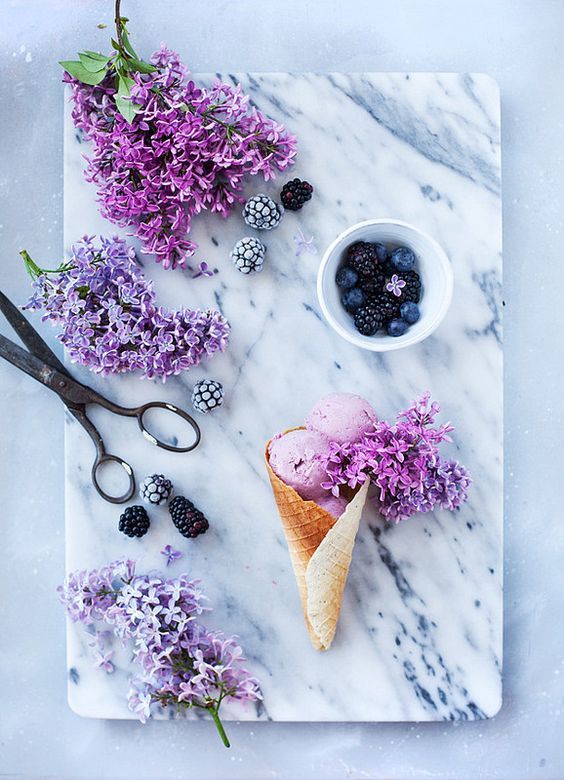 Ingredients
1 1/2 cups milk
1/2 cup sugar
1 cup blackberries, slightly smashed
1 tbsp. dried lavender
3 egg yolks, room temperature
1 pinch salt
1-2 drops lavender food coloring (optional)
2 cups heavy cream
Instructions
Combine milk, sugar, lavender, and blackberries in a saucepan and bring to a simmer, stir constantly.
When the mixture begins to bubble around the edges
Remove from heat
Allow mixture to steep in mixture for 10 minutes.
Strain the mixture into a bowl or pitcher using a fine mesh sieve or cheesecloth.
Wipe pan clean and return milk to pan.
Place pan back over medium heat.
Add egg yolks to a clean bowl and beat lightly.
Gradually add about 1/2 cup of the warm milk mixture into the egg yolks
Stir constantly.
Return the mixture to the saucepan and stir to combine.
Continue to simmer until the mixture has thickened slightly, but do not boil.
Remove saucepan from heat and add salt and food coloring, stir until dissolved.
Allow mixture to cool to room temperature.
Add heavy cream, stirring to combine.
Chill in the refrigerator for 30 minutes.
Add mixture to ice cream maker
Store ice cream in an airtight container in the freezer until ready to serve.
Enjoy!!
Deidre Hartfield 
Dee Hartfield