Grilled Portabello Baby Mushrooms
Grilled Portabello Baby Mushrooms
Grilled Portabello Mushrooms are the perfect side to spruce up any meal.
A grilling favorite that's quick to prepare you'll enjoy serving this wonderful dish.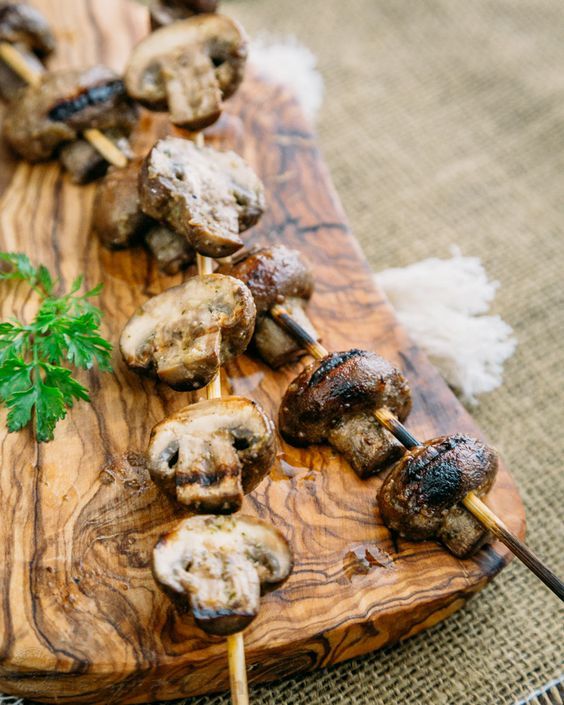 Ingredients
16 oz Baby portabello mushrooms
1 Garlic cloves
1 small handful Parsley
1 tbsp Balsamic vinegar
1/4 cup Lemon juice
Baking & Spices
1/4 tsp Cayenne pepper
1/4 tsp Pepper
1 tsp Salt
1 tsp Sugar
Oils & Vinegars
1/4 cup Olive oil
Other
10 (10-inch) bamboo/wood skewers
Instructions
Place 10 medium skewers into a baking dish and cover with water. Soak 10 minutes.
Place all of the marinade ingredients in a food processor and pulse several times
until marinade is smooth.
Rinse your mushrooms and pat dry.
Cut each mushroom in half, so each piece has half of the mushroom stem.
Place the mushroom halves into a large gallon-size ziploc bag, or a medium bowl
Pour in the marinade.
Shake the bag until all of the mushrooms are evenly coated in marinade.
Refrigerate and marinate for 30-45 minutes.
Preheat your grill about 300˚F
Skewer the mushrooms snugly onto the bamboo/wooden skewers that have been soaking
Place the skewered mushrooms on the hot grill for about 3 minutes per side.
Mushrooms are done when soft
Enjoy!!
SaveSave