Grilled Blackberry, Strawberry, Basil and Brie Pizza
Grilled Blackberry, Strawberry, Basil and Brie Pizza
A Delectable Desert Pizza! ​
Grilled Blackberry, strawberry, basil, and brie on a thin tasty pizza crust make for a tasty and beautiful desert.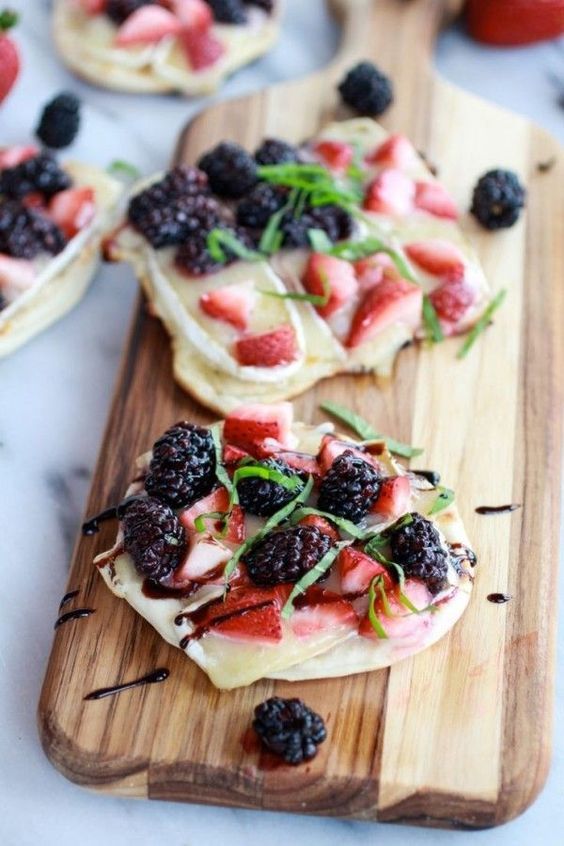 Ingredients
1/2 pound recipe of your favorite gluten free pizza dough
1/4 cup olive oil
16 leaves basil chopped + divided
8-12 ounces brie sliced
1 1/2 cups strawberries chopped
3/4 cup blackberries
1/2 teaspoon pepper
Balsamic Honey Glaze​
1/2 cup balsamic vinegar
3 tablespoons honey
Instructions
Prepare the dough 1-2 hours ahead of time.
When the dough rises make the honey balsamic glaze.
Add the balsamic vinegar and honey to small sauce pan
Simmer, reduce by half about 10 to 15 minutes.
Remove from the heat and set aside
When ready to grill the pizzas
Preheat the grill the high heat or cook in the oven
Heat till brown then top with toppings
Add the blackberries to a bowl
Add about half of the basil.
Lightly mash the blackberries with a fork.
Invert a baking sheet and generously dust with flour.
Divide the pizza dough in half and roll each half as thin as you can
Cut the dough into 12 to 16 squares or circles
Add the olive oil to a small bowl
Brush both sides of the pizza rounds with the olive oil
Place on the baking sheet.
Add half of the pizza rounds to the hot grill
Grill for no more the 2 minutes.
The dough will bubble up, this is good!
Remove the pizzas using tongs
When all the pizzas are grilled, turn the heat on the grill down to medium.
Top the grilled side of each of the pizzas with slices of brie
Make sure to leave a 1/2 inch boarder around the edges so the brie
Then top with lightly mashed blackberries and the chopped strawberries.
Carefully return the pizzas to the grill and grill another 3 to 5 minutes,
Until the brie has melted and the pizzas are crisp.
Top with the remaining fresh basil
Drizzle on the honey balsamic glaze.
Enjoy!!