Greek Yogurt Coconut Bowl
Greek Yogurt Coconut Bowl
Cool Coconut Bowls
You can fill your coconut bowl with greek yogurt which is super high in protein. Then add your favorite healthy carbs and superfoods, which can give you a quick energy boost. My personal favorite is adding honey and a smidge of crushed coconut to my Greek Yogurt Bowl. What's your favorite? The  many combinations are endless.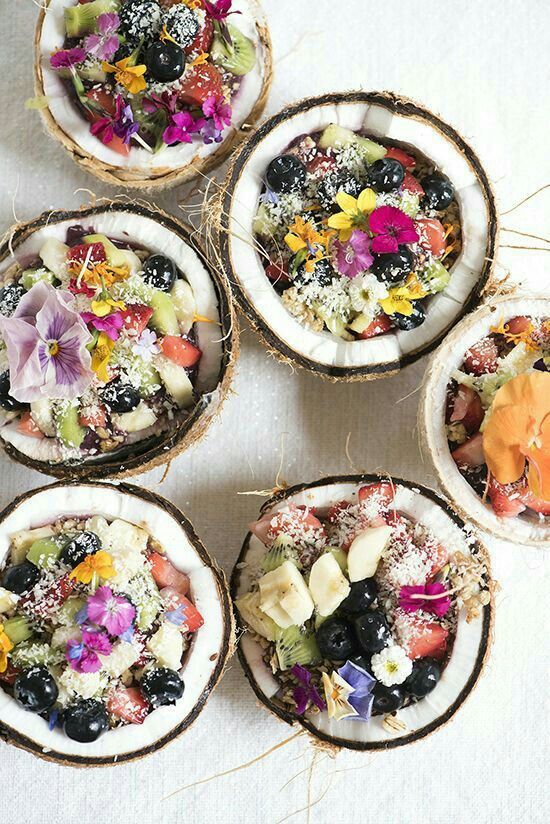 Included below is a list of popular topping ideas plus favorite flavor combinations.
Ingredients
Vanilla Greek Yogurt of choice
Greek Yogurt Breakfast Bowls with Toppings
Fantastic Flavor Combinations:
Dark Chocolate Orange:
Vanilla Greek Yogurt + Fresh Orange + Dark Chocolate + Pistachios
Pina Colada:
Vanilla Greek Yogurt + Fresh Pineapple + Toasted Coconut + Hazelnuts
Blueberry Superpower:
Vanilla Greek Yogurt + Fresh Blueberries + Granola + Honey
Strawberry Kiwi:
Vanilla Greek Yogurt + Fresh Strawberries + Kiwi Fruit
Topping Ideas:
Fresh Fruit:
Blueberries
Strawberries
Blackberries
Raspberries
Kiwi
Pineapple
Coconut Flakes
Mangoes
Pineapple
Peaches
Oranges
Bananas
Cherries
Nuts:
Pistachios
Almonds
Walnuts
Pecans
Cashews
Dried Fruits & Superfoods:
Coconut Flakes
Dried Cranberries
Granola
Chia Seeds
Dried Apricots
Dates
Dried Cherries
Sweetener
Honey
Agave Nectar
100% Pure Maple Syrup
Brown Sugar
Stevia
INSTRUCTIONS
Crack open a coconut or use a regular bowl
Place Greek Yogurt in Coconut Bowl.
Top with fresh fruits, nuts, and dried fruits.
Enjoy!!
​