Fresh Paleo Blueberry Bars
Fresh Paleo Blueberry Bars
Fresh Blueberries are the star in this ​tasty paleo treat delicious gluten-free crust layered with fresh blueberries and a sweet and moist layer. Perfect for breakfast or a delicious snack.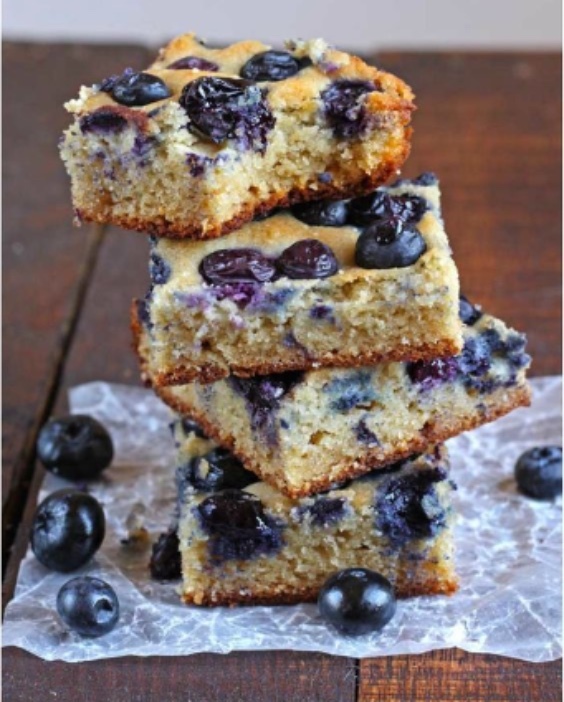 Ingredients
1 1/2 cups almond flour
2 tablespoons coconut flour
1/2 teaspoon baking soda
1/4 teaspoon sea salt
1/2 teaspoon cinnamon
1/4 cup coconut sugar
3 tablespoons coconut oil, melted
3 eggs
1 teaspoon vanilla extract
1 pint blueberries
Instructions
Preheat oven to 350 degrees. Line an 8×8 baking dish with parchment paper.
In a bowl combine the almond flour, coconut flour, baking soda, salt and cinnamon.
In another bowl, mix together the coconut oil, coconut sugar, eggs and vanilla extract.
Slowly stir the wet ingredients into the dry ingredients until just combined.
Pour the batter into the lined baking dish and smooth with a spatula.
Sprinkle on blueberries evenly and press down into batter slightly.
Bake for 20 minutes or until toothpick comes out clean.
Notes
Add different flavors such as orange, lemon, or coconut for a different twist on these delicious bars!
Enjoy!!
SaveSave