Avocado Chocolate Paleo Brownies
Avocado Chocolate Paleo Brownies
Thick Rich and Decadent! Brownies made with Avocado!
That's Right made with avocado and you'll never know the difference
once you bite into this moist, chocolatey thick brownie.
They're super easy to make and 100% Gluten Free and Dairy Free and
filled with heart healthy Omega 3's and good fats.
What's not to love!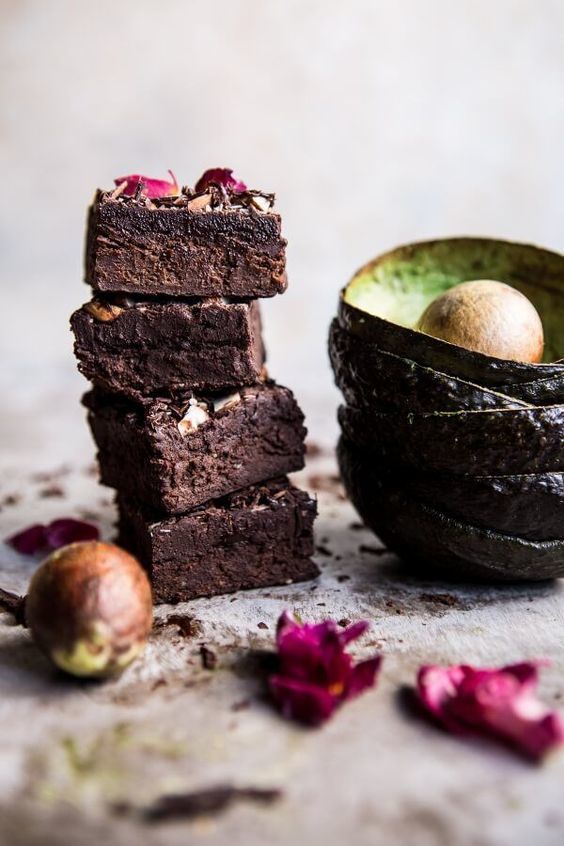 Ingredients
4 ounces dark chocolate chopped + divided
2 ripe avocados pitted + skins removed
3/4 cup coconut sugar
2 teaspoons instant coffee optional
2 teaspoons vanilla
2 eggs*
1/2 cup cacao or cocoa powder I use cacao
1/2 cup almond meal/flour
1/4 teaspoon salt
roasted chopped almond, for topping (optional)
Chocolate Fudge Frosting
1/3 cup real maple syrup
1/4 cup coconut oil
2 ounces dark chocolate chopped
1/3 cup cacao or cocoa powder I used cacao
Instructions
Preheat the oven to 350 degrees F.
Line an 8×8 inch pan with parchment paper.
Melt 2 ounces dark chocolate until melted and smooth.
Add the avocado, coconut sugar, instant coffee and vanilla to a food processor
and puree until completely smooth
and no clumps of avocado remain.
Pour in the melted chocolate and puree until smooth and combined.
Add the eggs and process until the eggs are combined.
Now add the cacao powder, almond meal and salt.
Pulse until the mixture is just combined.
Remove the blade and stir in the remaining 2 ounces of dark chocolate.
Evenly spread the mixture into the prepared baking pan.
Bake for 30-35 minutes or until the brownies are just set.
DO NOT over bake or these will become cakey.
Allow to cool before frosting.
Chocolate Fudge Frosting
In a small sauce pan, melt together the maple syrup, coconut oil and dark chocolate over
low heat until melted and smooth.
Remove from the heat and stir in the cacao power + a pinch of salt.
Pour the frosting over the brownies and spread in an even layer.
Sprinkle with any desired toppings.
Place the brownies in the fridge
Allow the frosting to set 30 minutes to 1 hour.
Cut in bars and store in an airtight container in a cool, dry place or in the fridge.
*For even more fun add chopped walnuts, shredded coconut or toasted almonds as a topping.
Enjoy!
Deidre Hartfield 
Dee Hartfield 
SaveSaveSaveSave