Spaghetti Squash Caprese
Spaghetti Squash Caprese
You can literally eat this pasta dish everyday and never feel guilty. ​Spaghetti Squash is a great alternative to full carb pasta dishes. You'll never notice the difference and this dish is bursting with magnificent flavors! ​​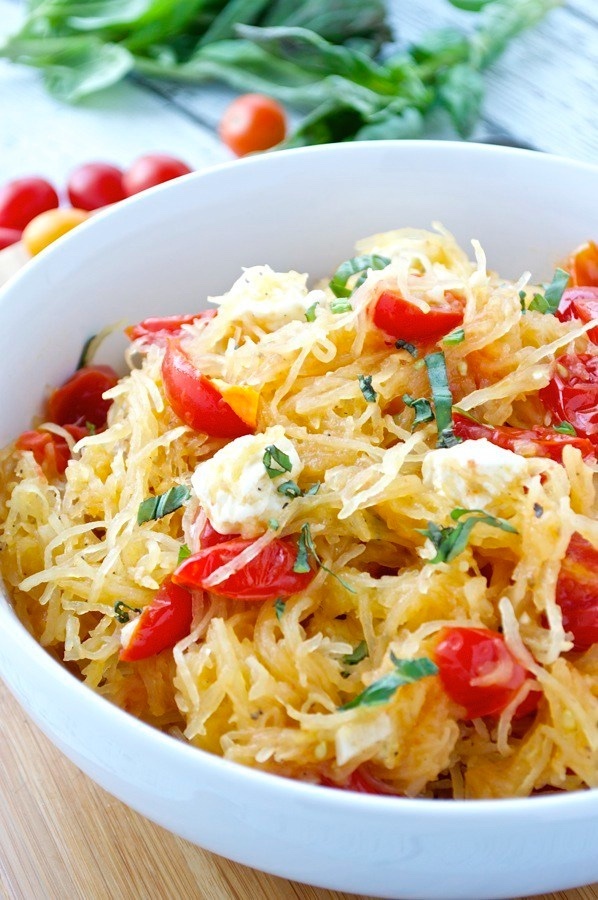 ​
Ingredients
1 Medium-Sized Spaghetti Squash, cut in half and seeds removed
Olive Oil, for drizzling
Salt & Pepper
2 Tablespoons Extra Virgin Olive Oil
2 Large Garlic Cloves, finely minced
1 Pint Grape Tomatoes, halved
1 Ball Fresh Mozzarella, diced
Fresh Basil, thinly sliced
Instructions
Preheat the oven to 375º.
Drizzle each half of spaghetti squash lightly with olive oil.
Season with salt and pepper.
Place the halves cut side down in a baking dish.
Bake the spaghetti squash for 35-40 minutes, or until tender.
To check for doneness, slide a pairing knife into the squash and if it glides in easily, it's ready.
If there is resistance, it needs more time.
Let the spaghetti squash cool until you can handle it.
Shred the squash into "spaghetti" with a fork. Set aside.
Heat a large skillet over medium-high heat and in the olive oil.
Sauté the garlic until fragrant, about 30 seconds, and then add in the tomatoes.
Cook the tomatoes until they begin to leave off some of their juices, about 2-3 minutes.
Toss in the spaghetti squash and coat evenly in the sauce.
Turn the heat off and add in the fresh mozzarella.
Stir gently until the mozzarella begins to melt.
Top with fresh basil and taste for seasoning,
If needed, add more salt and pepper.
Enjoy!!
SaveSave
SaveSave
SaveSave